Lagonda M45R Fox and Nicholl Team Car Replica
The Lagonda M45 and LG45 were the fastest production cars of their time. The race car versions were next level performance cars. Any Lagonda M45 or LG45 race car is being loved by the ones who already know their qualities. To all others these cars impress at first sight with presence and performance. The small but high bodywork with open wheels was a result of one of the best race car builders of the 30's, Fox & Nicholl. A perfect match.
Lagonda had just introduced the powerful Meadow 4.5 Litre 6-cylinder engine in the new M45, while Fox and Nicholl were looking for a replacement of their Alfa Romeo race cars, with banned compressors. Their creative interpretation of strict RAC TT regulations ended up with a lightweight and more streamlined version of Lagonda's M45R Rapide. They made it work to have tonneau covers as approved mandatory roofs. The result is being called a true connoisseur's pre war dream car. It is competitive, comfortable and still straightforward to drive. Arthur Fox himself developed a stronger version of the Meadows straight six, which wasn't meant to be a racing engine in the first place. After successes in the TT in 1934 the team won Le Mans in the following year, using an improved version to beat the Alfa Romeo works cars. And exactly this winning team car was used as an inspiration for the build of the replica you see here. The original car is part of the Louwman Collection.
This example is built on a 1936 LG45 chassis, but instead of the LG45 engine it is equipped with the correct M45 (M45/222) which was matched during the car's restoration in the mid nineties. The car was fully restored and rebuilt by John Walker, who finished the project in 1996. The owners found it as a wreck and opted for a period correct race version instead of the originality. Nowadays we would call this a backdate. The bright red colour is mentioned in race reports in period and the shade on this replica is believed to be correct. The Fox & Nicholl team built new team cars for the 1936 season, but these were all based on the LG45 chassis with an LG45 engine. Some other replicas took the 1936 team cars as a reference. All in all, both the original race cars and their replica versions have attracted a group of enthusiasts including Denis Jenkinson. These Lagonda racers offer their drivers great fun during events like the Flying Scotchman, Mille Miglia and events like Goodwood and Classic Le Mans. The example you see here is no exception.
Even though the car has been enjoyed, it still shows its shine. The paintwork, the chrome, the interior, everything on the car is in good condition. No damages can be found in or around the car. The engine was rebuilt again in 2015 and runs as smooth as it goes fast. A modern clutch conversion, combined with switched throttle and brake pedal make the car more pleasant to drive. Probably the easiest of all powerful pre-war cars for spirited driving. A file filled with invoices and history of the last decades comes with the car. Recent tyres are fitted. A RetroTrip is installed for rallying. This Lagonda M45R Le Mans special has recently been serviced and maintained by a renowned restoration company and is ready to compete or simply to be driven.
Price in Euro: 289.500
Please feel free to visit this Lagonda at our showroom in Delft and we are happy to answer any questions.
High-end Le Mans team car replica
In good condition throughout
Ready to run
Well serviced and maintained
Based on 1936 Lagonda LG45
Road registered in the Netherlands
Previously registered in Germany and the UK
Ex-UK registration: DPF – 421
Restored in 1996 by John Walker
Engine rebuilt 8 years ago
Engine number: M45/222
RetroTrip twin added to Smiths gauges on dashboard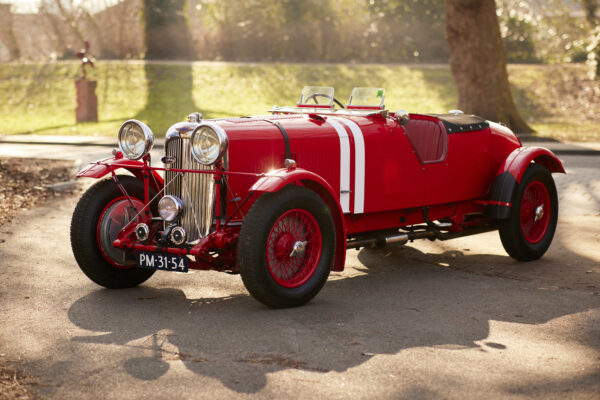 Want to know more about this car?