Lively memories pop up as soon as an ex-owner of a true 1750 GTV is being asked how it was like to drive such an iconic car. With its Grand Touring capabilities and slim Italian sports car look & feel, each and every trip is a great pleasure. In motion, but even standing still, it is easy to see why these cars were made with connoisseurs and enthusiasts in mind. Even after 55 years this Giallo Ocra shows its renowned qualities. 
We recently drove this first Series Alfa GT 1750 Veloce from the Bavarian Alps to Delft. Although being part of a collection we maintain, this was the first time we did long distance traveling with this car. A perfect test before putting it into the showroom. The drive confirmed the car's high standard of maintenance. If we wouldn't be on the look-out for a new custodian, we wouldn't mind to drive it all the way back again.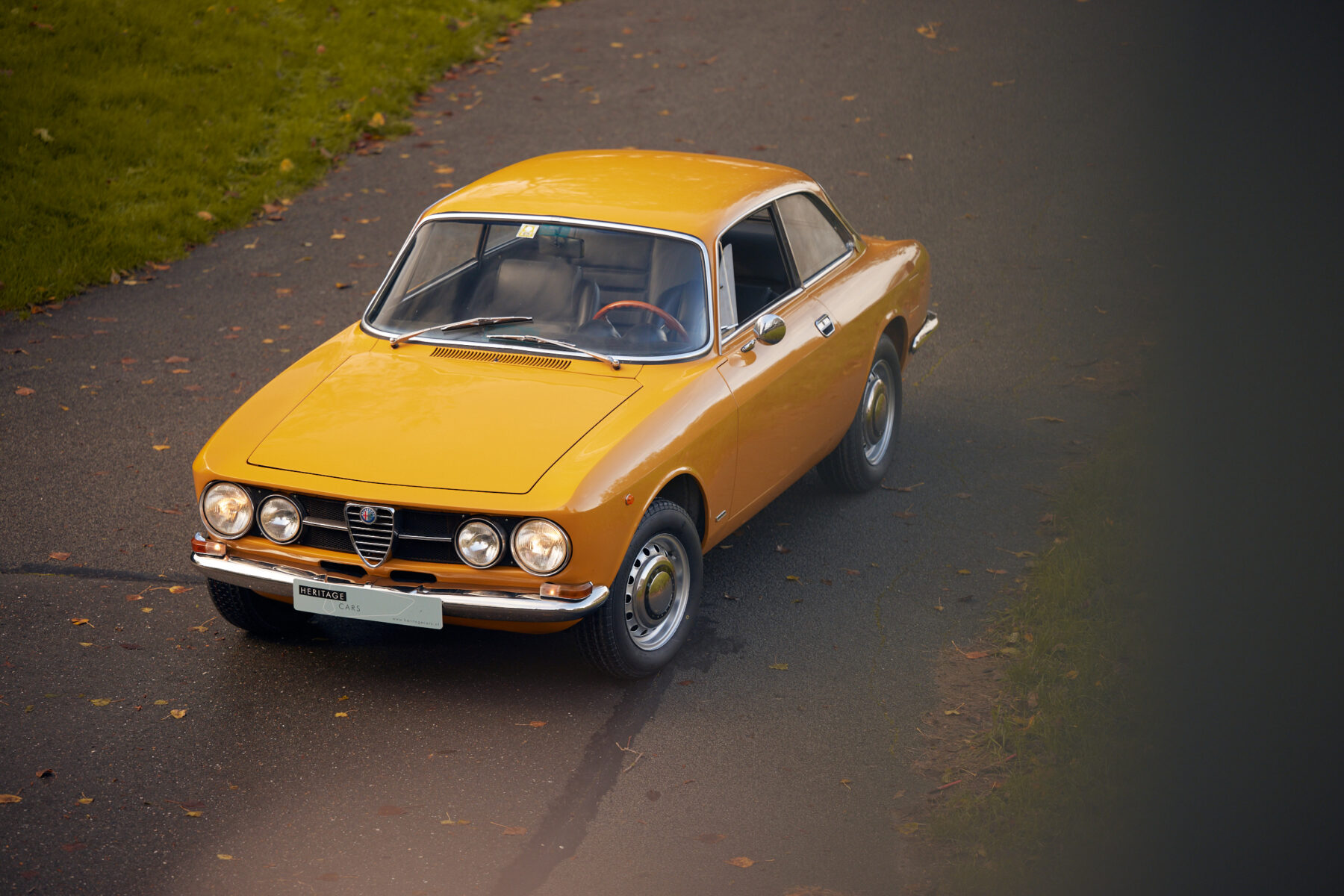 The car looks immaculate in its ochre color and black 1st Series interior. During the nineties and early 2000's a full bare metal restoration was done in Denmark. The car was first delivered in july 1968 to the Alfa Romeo dealership in Kolding. It was road registered on the 15th of January 1969 and stayed in Denmark until 2016 when it was bought by a Dutch Classic Car specialist and then being sold to the current German owner.
The car comes with a recent TuV report (German MoT), old Dutch and current German registration. It is easy to import this car into any European country or even overseas. The original service book is still with the car. Recent service bills and a more modern service book, including the final years in Denmark, are also included. There's a photo report of the restoration. Including overhaul of all technical components, including the correct engine, dual Webers, drivetrain, suspension. Interestingly the car is equipped with a hanging pedal set and dual brake booster from a Series 2. A valve cover and air intake from the Series 2 are also being used. Brakes have been renewed recently. Four new Blockley tyres were mounted onto the original steel GTV wheels prior to sale.
A full service before delivery includes ignition, oil, fluids and filters. Please make an appointment at our facilities in Delft, the Netherlands. Facetime and pre-purchase inspections are possible. We ship worldwide and we will assist with the export and import from the EU to overseas countries.
Alfa Romeo 1750 GT Veloce (105.44)
1968
Bertone design by Giugiaro
European Series 1
1779 cc, 87 kW / 120 Hp
5-speed full synchronized gearbox
Chassis nr.: *AR1357202*
Engine nr.: *AR00548*AV948*
Mileage 54782 kms (five digit odo, original mileage unknown)
Original service book (stamps from 1968 – 1971)
Restoration report
Manual
English brochure
Current owner since 2017
Full restoration included:
Bare metal bodywork
Epoxy primer
Full respray in period correct Ochre
Engine overhaul, including new bearings, pistons, oil sump, new timing chain, reworked head et cetera
New exhaust
Reupholstery Series 1 GTV interior
Gearbox rebuilt
Refurbished wheels
Refurbished suspension and undercarriage
Refurbished fuel tank
New brakes – dual brake system
New fuel system
Overhauled dual Weber 40 DCOE 32
Refurbished rear axle / differential
Refurbished drive and pop-shafts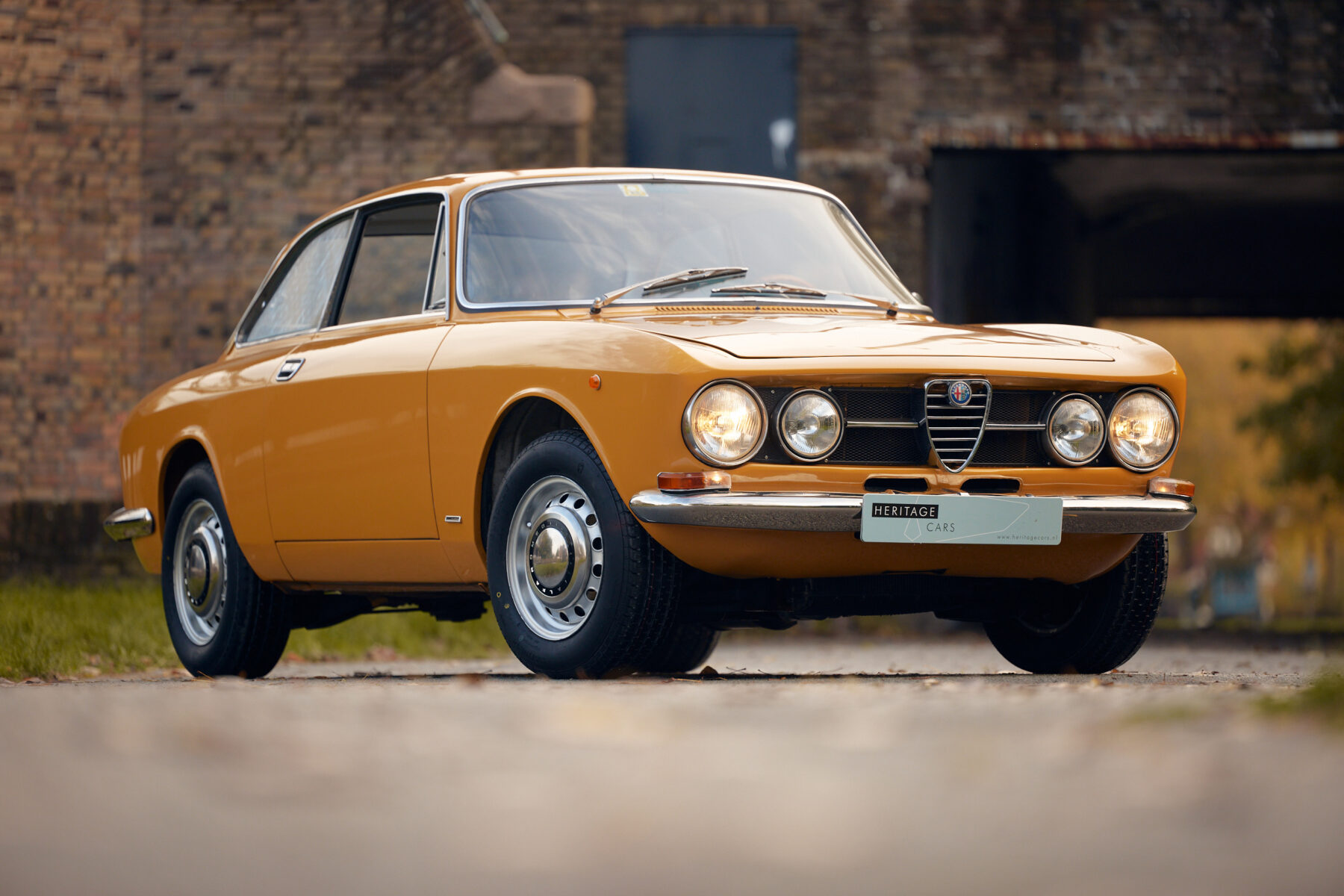 Want to know more about this car?