Austin-Healey 100/6 BN6
Some sports cars show the right proportions when you see them in real life. The Austin-Healey 100-6 appears to be larger and heavier on photos than it actual is. While standing face to face it is a nimble, sexy and timeless showcase of natural beauty from each angle. It's an agile machine that fits most drivers like a glove. It's easy to understand why this model has been so popular from the moment it was introduced.
The BN6 is the two-seater version and is perhaps the ultimate example of a true British roadster. As soon as you start the engine, dark brown tones leave the twin pipe muffler. The sound is never too loud, nor too silent. The open roadster offers a great driving experience. It is not about top speed or the quickest acceleration. These cars tend to be fun at any given speed by design. The 2.6 litre Austin straight six offered a healthy 119 hp when new. Overdrive is electronically engaged in third and fourth gear. On backroads the 100/6 performs at its best, but you can easily use these cars for cross continental trips. No trailers needed, just drive it everywhere. This explains why it is a popular historic rally tool among the people who already know.
The blue leather tonneau cover and hood are finished in the same shade as the leather interior. Signs of use are visible, but no major damage. The chrome knock-off wire wheel are in an exceptional good shape. All gauges and systems work like it should. The car is turn-key ready. From what we know this car was delivered new, and later been restored, in Canada before it was brought to Europe. The current Dutch owner bought the car in 2017. During his ownership the carpets have been replaced, the gearbox has been rebuilt and major work has been caried out to make the car both as reliable as pleasant to drive. The shiny two-tone paint shows minor marks. This sports car is in a good overall condition and will be enjoyed for many more year. A Tripmaster is installed for those who'd like to use this Healey for historic rally events like the Tulip Rallye and Winter Trail.
Please reach out to us to make an appointment for a showroom visit and test drive in and around Delft.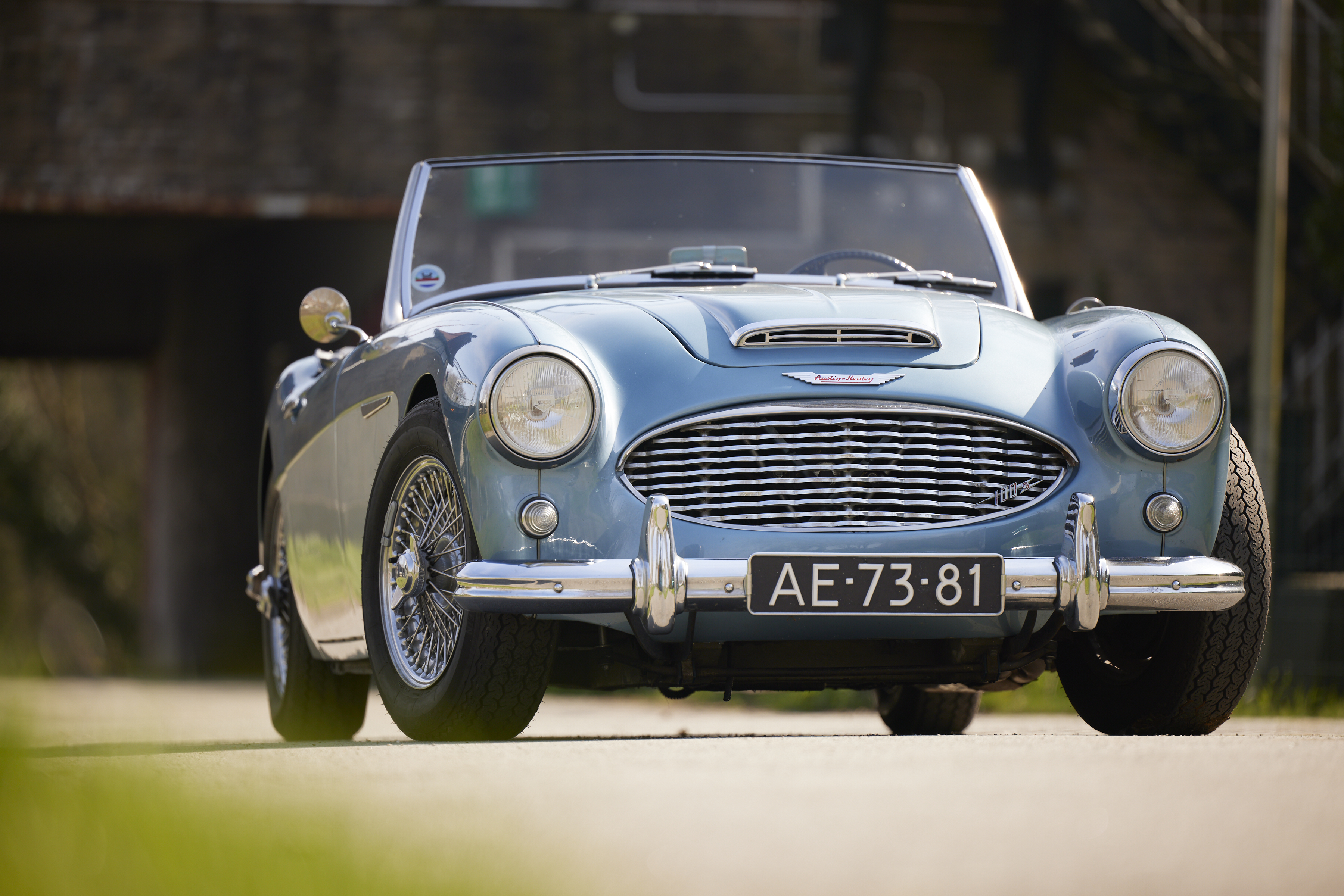 Want to know more about this car?