Jaguar MKII 3.8 Litre with a 5-speed manual gearbox
Although this Jaguar is registered as a 240 it is the ultimate road-going version of Jaguar's MkII. The strong 3.8 Litre engine is connected to a five speed manual gearbox. Wire wheels knock offs and disc brakes all around give away the fact that this was a very fast sports saloon in its days. And it still is quick nowadays. Even at speed, inside the cabin it always feels as comfortable and cozy as a British saloon can be.
This MkII has been used by the current custodian for over fifty-five years and has always been maintained by mark specialists. The honey beige exterior has been resprayed in the past, during a thorough restoration. The beige leather interior was redone, including the seats which got reupholstered. The original steering wheel has been replaced by a wooden 3-spoke Motolita. Both the inside and outside show some signs of aging and use, but the overall condition of this car is very good and solid. We have had it detailed recently. Technically it is in great shape and ready to run. It literally starts with a push of a button.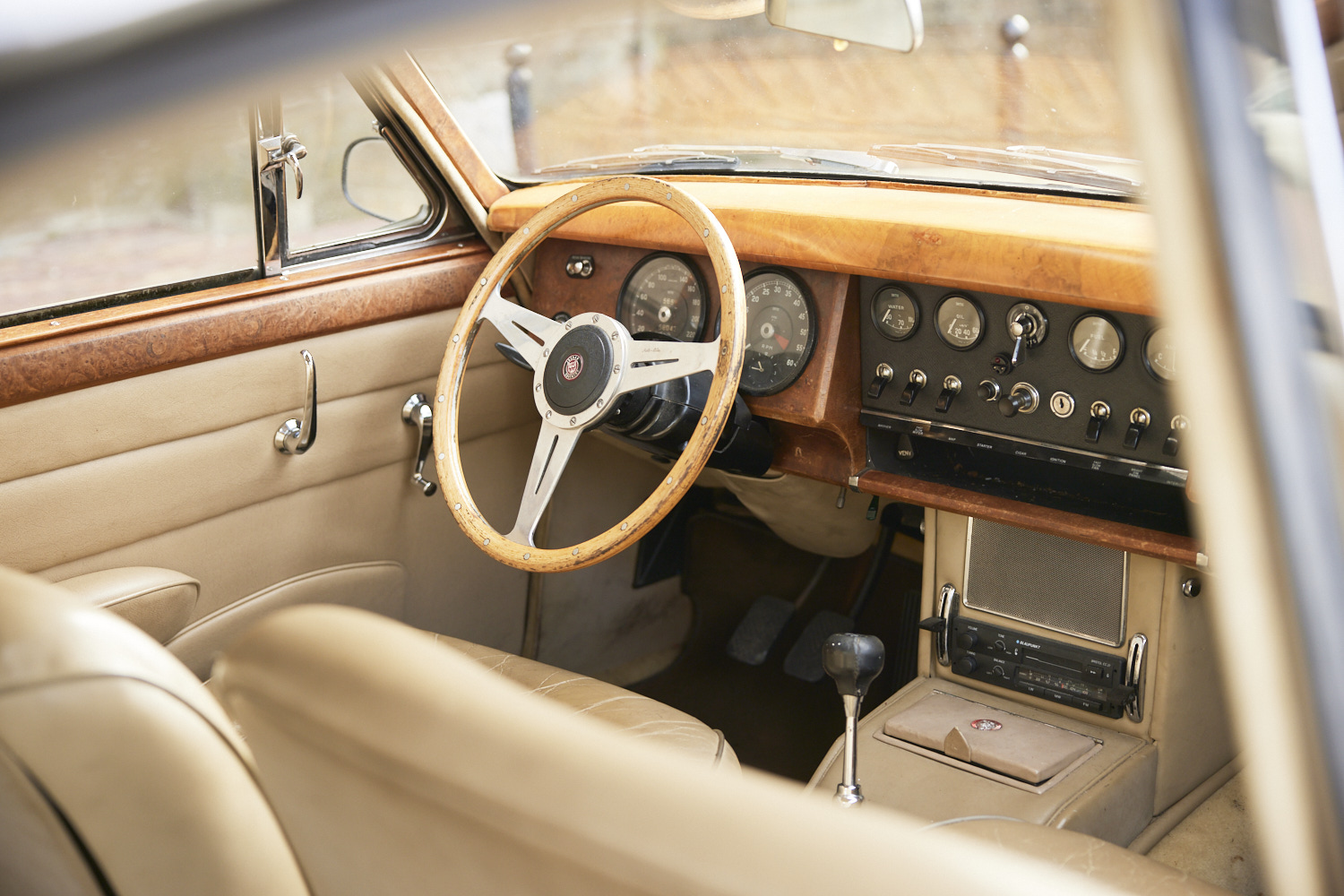 The engine is the same as the 3.8 Litre that was used in the E-type. With 220 hp and high torque it offers plenty of power over a wide range. Fans of these engines love the sound of it. It's quiet at low speed, but it hauls on acceleration. Instead of the original 4-speed gearbox the mounted full-synchronized 5-speed helps to drive this car in modern traffic with ease, even at speed on European highways. Power steering makes the car easy to maneuver too.
The only reason why we were asked to offer this car for sale is due to the owner's age. Up until today, he just loves driving his cherished Jaguar. He and his family used the car each year for about 300 till 1000 kilometers during the last couple of decades. It was never stored for months in a row, but the owner's garage kept it dry while parked.
If you are in the market for one of Britain's best sports saloons, please make an appointment to inspect and test drive this Jaguar MkII 3.8 Litre. Due to the fact that this Jaguar is still in use, it is not in our showroom.
Highlights:
Jaguar 240 with 3.8 Litre engine
Model year 1967
5-speed gearbox
Honey Beige
Beige full leather interior
Knock-off wire wheels
Well maintained by brand specialist
Long-time ownership
Regularly driven
Patina and signs of use
Power steering
Powered disc brakes