Rover P6 3500 S with manual gearbox
This LHD Rover P6B 3500 S with V8, power steering, power brakes and manual gearbox is the ideal daily classic. It's a fast car and very practical. The design is the second generation of the P6, while the build quality is equal to the first series. The Mk2 of the Rover P6 can be recognized by the faux power bulges on the hood, a timeless looking dashboard and a more aggressive looking grill. The facelift makes the car look more modern than its sixties design. Especially in Mexico Brown the car is a proper 70s saloon. This example benefits from the fact it was built in 1972, before British Leyland experienced huge strikes at the Rover facilities. It's a car that proves that Rover did build high quality cars up until then. This P6 will last for a long long time.
The low slung design, the teardrop shaped roof and aggressive front look great from any angle, but are even better in motion. With a zero to one hundred km/h acceleration in less than 9 seconds and a top speed of over 200 kmh, this is a fast Rover. The low frontal area helps the car go quick. Its performance is incomparable to the automatic 3500, which only has 150 hp. In case you wonder, the manual 4spd gearbox is synchronized, hence the "S" in 3500 S. If you have ever driven a Facel Vega with a PaM gearbox you will agree with me that this is a poor man's Facel. It shares so many characteristics. The "S" seems to be made for cross continent journeys like the better grand touring cars of the 60s and 70s, because it's as fun on long straights as it is in the twisties.
The combination of comfort, a good heating and ventilation system and power steering make it a practical classic too. It has an adjustable steering column (height and depth) and it got the optional ET headrests. At its time it was a modern, safe and even quite luxurious car. The optional Touring package is the finishing touch. I keep the spare in its cover in the trunk myself, but it can easily be mounted on the trunk. Personally, I prefer to travel light. The car is equipped with Hella headlights and this offers great visibility, much better than the original Lucas system. Also an electronic ignition is installed for worry free travelling.
This P6 is now 50 years of age and ready to run. This P6B drives like a more modern car with its four disc brakes all around, which are all renewed including the calipers. Classic car specialists took care of this Thee Thousand Five and it has recently got major maintenance and service. It is free of APK in the Netherlands, but we have had it checked.
Hightlights:
Mexico Brown over black leather interior
3.5 Litre V8 with manual 4 speed gearbox
161 hp (Some sources say it has the high compression EU "S" engine, rated around 180 BHP)
Power steering and power brakes (4 discs)
Touring package
Full leather interior
LHD, Dutch delivered
Low-mileage
Garage stored
Needs a future repaint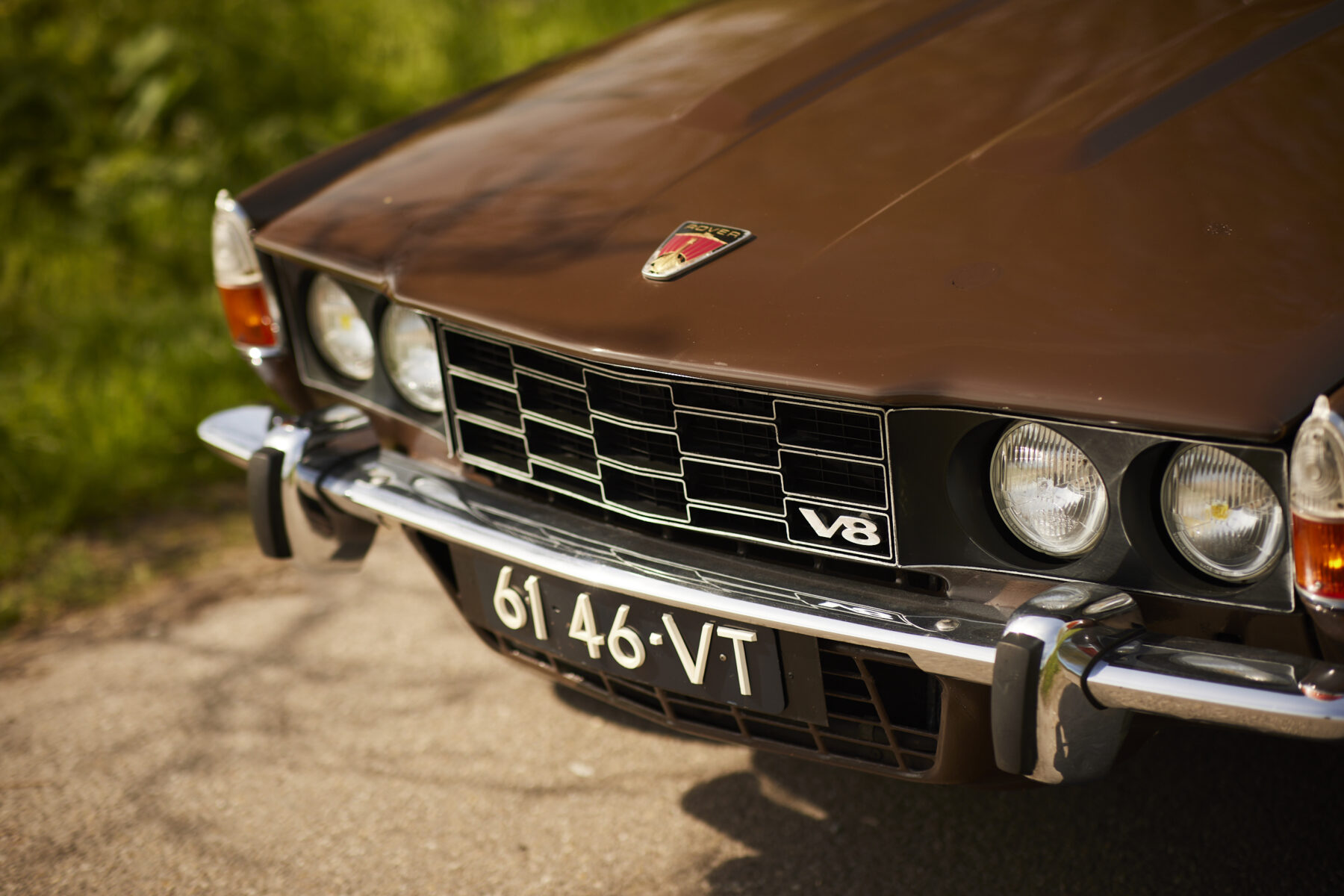 Unrestored, original condition. No rust, very solid. The shiny brown paint and interior show some marks though. I offer it as a very nice drivers car that can be enjoyed without the downsides of one in concours condition. Oil pressure is good. Everything works, only the Keinzle clock needs to be refurbished. This Rover P6 3500 S is very well maintained. Service history known from 2011 till today. Dutch delivered in 73. Always kept in The Netherlands, garage stored. 3 owners from new.
Recent maintenance:
Oil change + filter (Nov 2022)
All spark plugs renewed (Nov 2022)
Brakes front and rear (!) have been renewed including rear calipers (2020 / Nov 2022)
Brake lines renewed (2021)
Fluids and filters have been replaced (2021)
New fuel lines, including reserve (2021)
New brake booster (2021)
Wipers replaced (2021)
New electronic ignition installed (2020)
Upgrades:
Hella headlights for perfect year-round driving
Rear window heating system installed
Electronic ignition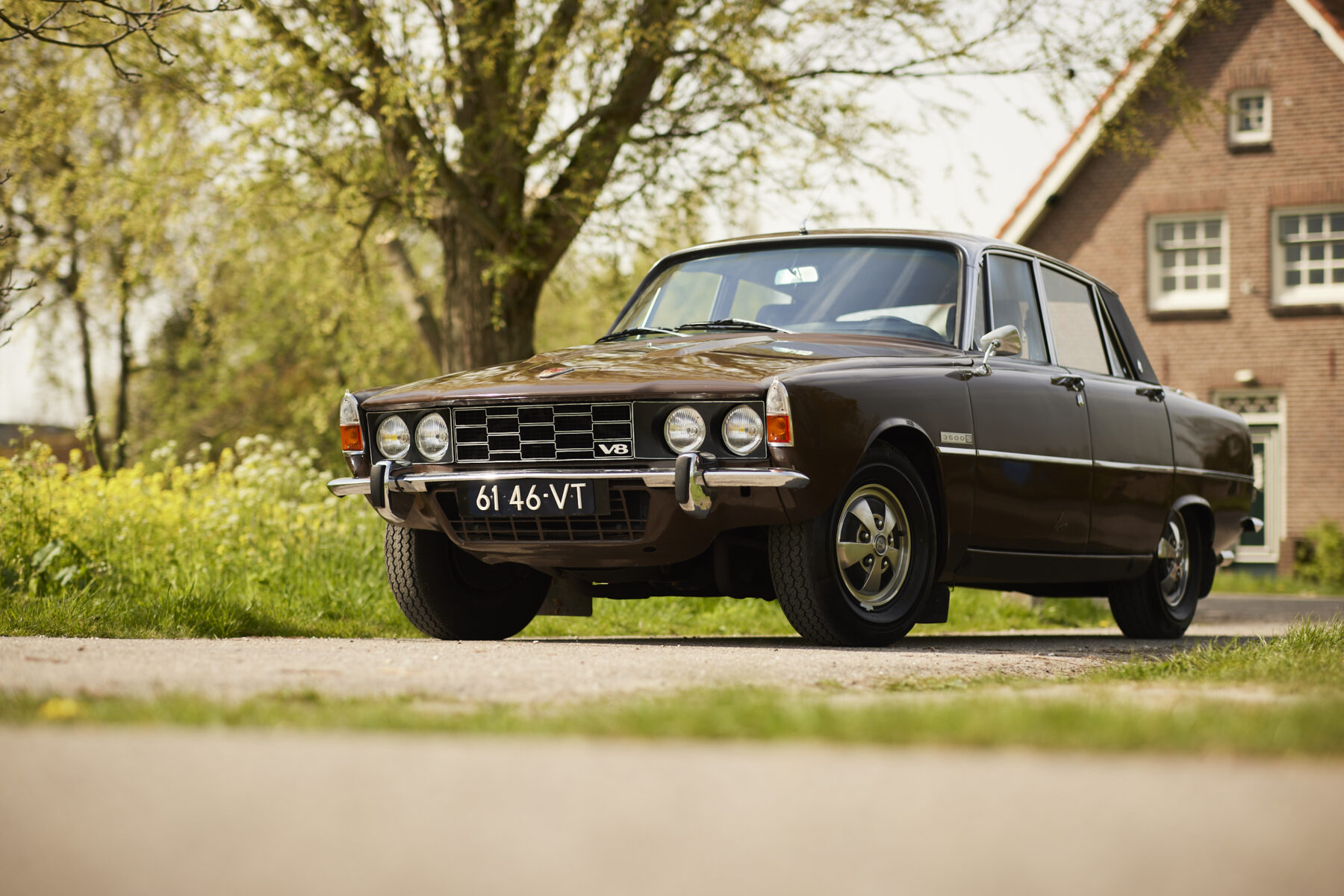 Want to know more about this car?